Data Day 2013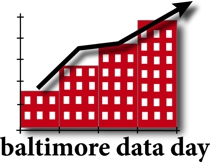 Shared Visions, Shared Indicators
Friday, July 12, 2013
8:30 a.m. - 3:30 pm
University of Baltimore
Thumel Business Center
11 W. Mount Royal Ave.
Baltimore, MD 21201
Data Day 2013 Sponsorship Information (.pdf)
Baltimore Data Day is an annual workshop to help communities expand their capacity to use technology and data to advance their goals. At Baltimore Data Day, community leaders, nonprofit organizations, civic and faith-based institutions and governmental entities come together to see the latest trends in community-based data, technology and tools and learn how other groups are using data to support and advance constructive change. Baltimore Data Day is structured around a series of "how to" interactive workshops in which people who work with data will explain what they do, explore data sources, and guide participants on gathering and using data.
Data Day 2012 was sponsored by BNIA-JFI in partnership with the Federal Reserve Bank of Richmond, with generous support from:
Office of the Provost at the University of Baltimore
Maryland Department of Health and Mental Hygiene
Morgan State University School of Architecture and Planning

Baltimore City Planning Department
Baltimore Neighborhood Collaborative
Citizens Planning and Housing Association, Inc.
Contact bnia-jfi@ubalt.edu or follow us on Facebook or Twitter.
Baltimore Data Day is open to the public. Space is limited and registration is required.
For information on how to support BNIA-JFI, visit www.bniajfi.org/donate