Project Overview:
The Baltimore Open Land Data (BOLD) project advances data-driven tools for developing solutions to vacant property problems and educating partners to more effectively prevent and redress property abandonment in order to revitalize distressed neighborhoods. To achieve these goals, BNIA-JFI collaborated with community, non-profit, and local government partners, to create an exciting new mapping and data tool that integrates multiple property-related datasets at the parcel-level. This tool allows its users to better understand, analyze, and reform property-related policies, like tax sale foreclosure, that might have negative impacts on vulnerable populations, communities, and the city.
The following story, which appeared in Vital Signs 15, details the relationship between tax liens and vacancy.
Data Story: Tax Liens and Vacancy
By Community Law Center, Inc. For more information, visit http://communitylaw.org/.
Every spring, Baltimore City conducts an auction of any delinquent tax, water, and other liens, selling these liens as tax sale certificates to private purchasers. The certificate purchasers pay off the outstanding debt to the City, and in turn acquire the right to collect the debt directly from the property owner – along with interest rates of 12% and additional fees. If the property owner does not pay the debt, fees, and interest, the purchaser can initiate a process to foreclose on the property, becoming the new owner of the property for the amount of the taxes due – which can be as little as $750.
As the data indicates, the areas with the highest number of tax liens, like Southwest Baltimore, Sandtown-Winchester/Harlem Park, Greater Rosemont, Clifton-Berea, and Greenmount East, are also areas plagued by high numbers of vacant properties. This is no coincidence; tax sale certificate purchasers often realize during the tax lien foreclosure process that there is no value in the property or that the owner is unlikely to redeem the certificate, and may choose to simply walk away, without recording a deed and leaving a cloud on the property's title. Anyone who subsequently wishes to purchase the property must clear the title, which could cost more than the property's actual value. The property could then sit in limbo, as the previous owner may have also walked away during the foreclosure process, and the certificate purchaser who never recorded the deed may not take responsibility for maintaining the property, or paying future taxes.
Abandoned properties, especially those with low assessed values (some with assessed values of $3,000 or less) but large liens (some with hundreds of thousands of dollars' worth of liens), will cycle through tax sale year after year, accumulating liens and continuing to deteriorate. No developer or prospective owner will 'dive underwater' to rehabilitate these properties, resulting in missed opportunities for redevelopment and neighborhood revitalization.
When a municipal tax sale process is well designed, it is an important tool for local governments to collect delinquent tax revenue, and can work hand in hand with a redevelopment strategy to return vacant properties to productive use. The Baltimore City Tax Sale Work Group brings together community and consumer advocates, lawyers, housing counselors, City employees, data experts, web developers, and others to address the negative impacts of Baltimore's current tax sale system on vulnerable homeowners and neighborhoods. Work Group members work with homeowners at risk of having their properties go to tax sale, organizing clinics staffed by volunteer attorneys and housing counselors; educate homeowners about tax credits they may be eligible for, to lower their tax bills and help them stay in their homes; and advocate for tax sale reform at the Baltimore City Council and the Maryland General Assembly, successfully lobbying to reduce the interest rate to redeem tax sale certificates, and increase the lien threshold at which properties go to tax sale.
Recently, the Center for Community Progress assessed Baltimore's current tax sale system and provided recommendations to overhaul Baltimore City's tax sale system to one that is more equitable, efficient, and effective[1]. The Work Group continues to advocate in support of essential changes to the tax sale system, to protect vulnerable Baltimoreans from losing their homes, and eliminate tax sale a contributor to vacancy.
[1] Assessment of Baltimore City's Tax Sale System: Impacts on City Finances, Vacant Properties, and Vulnerable Owner Occupants (Center for Community Progress, 2016) http://www.communityprogress.net/filebin/CCP_BaltimoreTASP_Final_Report_102616.pdf
The Problem:
In 2013, The Community Law Center founded the Tax Sale Workgroup as a subcommittee of Baltimore Homeownership Preservation Coalition (BHPC) to break the cycle of vacant properties in Baltimore city and create opportunities to preserve homeownership. The workgroup has been effective in bringing about policy changes that have reduced the number of owner-occupied homes being lost through the city's annual tax sale, through legislation that (1) increased the threshold amount owed in back taxes or other fees such as water bills, triggering a tax sale – from $250 to $750, and (2) decreasing the interest rate that lien purchasers can charge homeowners, from 18% to 13%.
Despite these successes, the Tax Sale Workgroup, Community Law Center, and other partners, have struggled to efficiently and effectively collect data required for their legal and policy work. In order to get the whole picture of an individual property, the processes involved complicated searches of at least nine different web-based data sources for each property and then mapping that information with Google Maps. For example, the Public Nuisance Project, which demonstrated the power of community associations to bring code enforcement actions against the worst properties in their neighborhoods, required nearly a full year by Community Law Center attorneys, University of Maryland law students, and CPHA staff and interns, to gather data on community associations, property ownership, and code enforcement status.
Additionally, nonprofit and community organization groups currently have no unified data system to use for outreach efforts around vacancy, abandonment, and other nuisance property issues.
The Solution:
Studies by national experts have highlighted how collaborative policy working groups focused on vacant properties, tax sale reform, and transparent and effective use of technology and data, are all key pieces to addressing property abandonment and revitalizing distressed neighborhoods. An example of technology that addresses this is the free and publicly accessible social and economic data system called NEO CANDO, Northeast Ohio Community and Neighborhood Data for Organizing, of the Center on Urban Poverty and Community Development at Case Western Reserve University. A study of the NEO CANDO system found that ""[l]ocal market data systems are of great value to nonprofits, local governments and other community stakeholders who are working to stabilize neighborhoods struggling as a result of foreclosures, blight, vacancies or economic decline." (Market Data-Driven Stabilization: A Case Study of Cleveland's NEO CANDO Data System, p.4.)"  From this, the idea of BOLD emerged.
BNIA- JFI has more than a decade of experience integrating data from multiple administrative data sources. BOLD integrates these datasets into a user-friendly web application and mapping tool that will allow the Community Law Center, other nonprofits, community groups, and individual users, the ability to enable real-time collaborative decision making and to identify and map neighborhood change at the property level. This will result in a reduction of time spent by community lawyers on researching data from multiple websites and also allow for improved advocacy in all matters of District Court housing code enforcement cases, hearings before the Zoning Board, and actions in Circuit and Federal Courts such as the Public Nuisance Project utilizing the Community Bill of Rights. This type of data will prove invaluable in crafting remedies for Baltimore's neighborhoods against nuisance properties.
Design Development:
BOLD was developed by BNIA-JFI with design continual input and feedback from the Community Law Center and members of the Tax Sale Workgroup. The tools allows users to search and select property addresses to obtain current and historic data related to tax sales, foreclosures, vacancy, property permits and violations. It also allows users to input data and notify Baltimore's 311 service for a variety of property-related issues.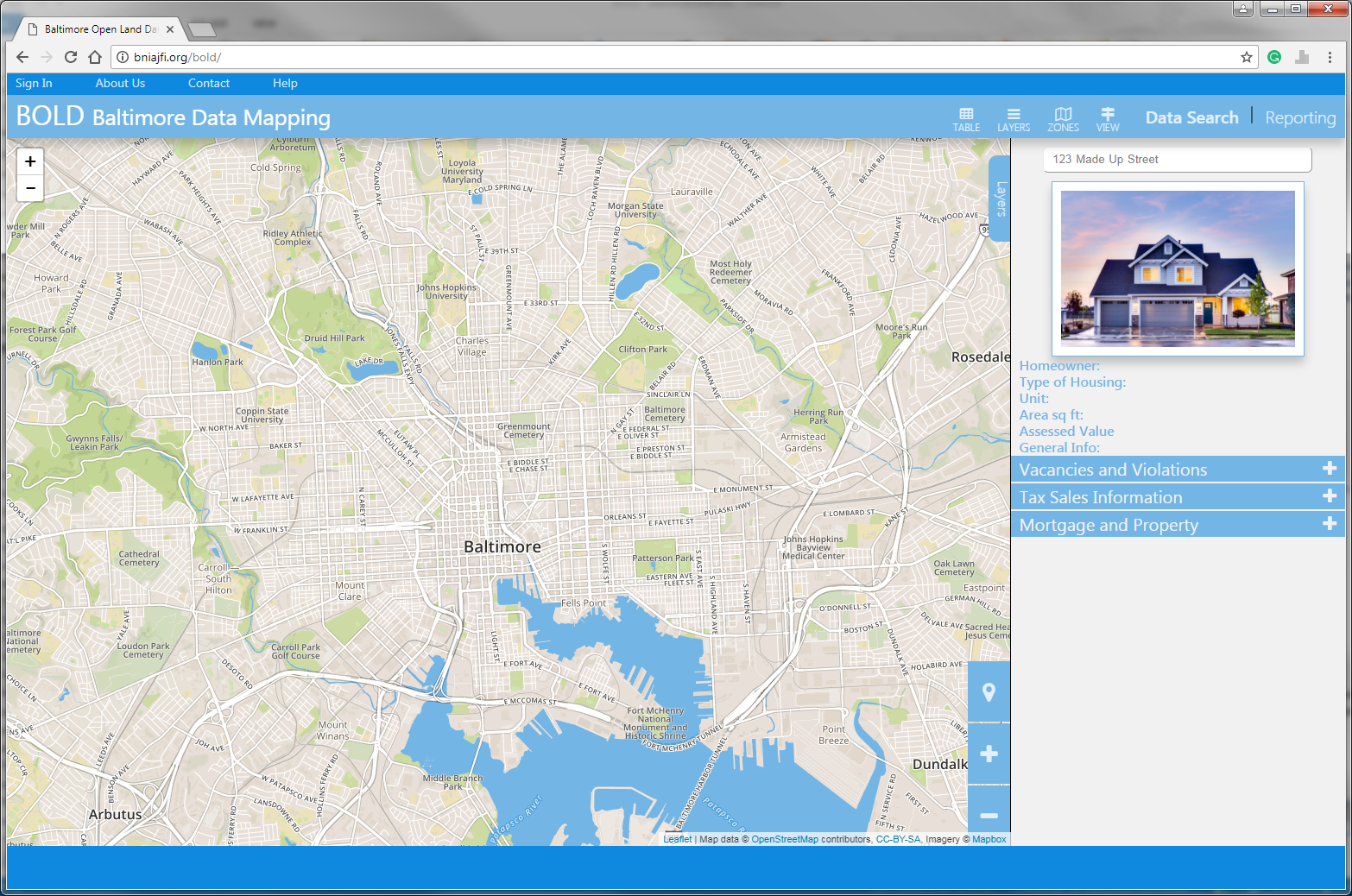 BOLD is currently in the development stage and will be ready for beta testing in the next few months. If you have questions or comments, please email Amanda Davis at [email protected].
Sponsors: