About the Project
Download the Year 3 Community Report for Crime Reduction
Download the Year 2 Community Report for Crime Reduction
Download the Year 1 Community Report for Crime Reduction
In 2013, the Baltimore City Mayor's Office on Criminal Justice, in partnership with the U.S. Justice Department announced that the East Baltimore neighborhood of McElderry Park announced a planning process through the Byrne Criminal Justice Innovation Grant (BCJI) to develop a data-driven plan for community-based solutions to persistent crime in the neighborhood. The McElderry Park Revitalization Coalition (MPRC) served as the community-based steering committee for the process which comprised of community members, law enforcement, faith-based institutions, businesses, and non-profit organizations within the community of McElderry Park and surrounding neighborhoods.
The Baltimore Neighborhood Indicators Alliance-Jacob France Institute supported the process by providing longitudinal analysis of crime incidents, data on the surrounding physical and socioeconomic context, and citizen calls for service using the 311 system. Nearly twenty localized crime hotspots were identified using data reposited at BNIA-JFI:
Violent and property crimes
911 calls for service
Juvenile and drug-related crimes
311 calls for trash and illegal dumping
Code violations, including vacant housing
Faculty from the University of Baltimore's School of Criminal Justice conducted focus groups to garner residential perceptions about the drivers of crime in the neighborhood. The top five themes that emerged were:
Physical Disorder
Crime & Safety
Law enforcement relations & response
Lack of employment
Lack of youth programs/activities
From the hotspot analysis and focus group findings, BNIA-JFI worked with the community to developed a comprehensive list of recommended strategies, which were cross-referenced with evidence-based programs and practices for effective crime reduction. The full list consisted of over 60 ideas which the MPRC took to the streets for a vote. Each resident who approached one of the four giant charts was given 3 options to make a difference in the community. Over 149 votes were cast in deciding how to allocate funding.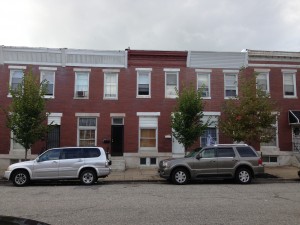 50% of funds will be dedicated to Workforce Development Programs such as employment development for McElderry Park residents with program component addressing ex-offenders.
Up to 25% of funds will go toward Legal Assistance related to employment, i.e. expungement and general legal assistance, i.e. family matters, financials matters, homeownership issues
An additional 25% will address Youth (including teen) Recreation, Education, and Mentoring Programs
The final 25% will go to cleanliness & environmental improvement including but not limited to greening initiatives, job and service programs related to cleanliness, organizing residents around city services, and improvements to built environment, e.g. alley gating.
McElderry Park Data Portal
The creation and maintenance of a dynamic map of all of McElderry Park's community data and assets allows residents, organizations, and other stakeholders to stay engaged and informed about people, places, programs, and events in the community.
Neighborhood Data and Presentation Materials
McElderry Park Neighborhood Data Profile updated!
MAP: McElderry Park Longitudinal Crime Hotspots, 2000-2014
MAP: McElderry Park Neighborhood Map
Graphs
Part 1 Crime by Month, 2012-2014
Part 1 Crime Incidents by Type, 2000-2014
Part 1 Crime by Type, 2014
Violent Crime Trends in McElderry Park, 2000-2012
Property Crime Trends in McElderry Park, 2000-2012
Vacant and Abandoned Properties in McElderry Park, 2001-2012
311 Calls for Service for Dirty Streets and Alleys in McElderry Park, 2002-2012
Presentations
November 2012 Presentation to the McElderry Park Community
May 2013 BNIA-JFI/UB School of Criminal Justice Kick-Off Presentation
McElderry Park Revitalization Coalition: "Building Strong & Sustainable Communities of Opportunity" Presentation
Crime Hotspot Profiles (2000-2013)
In order to identify crime hotspots in McElderry Park, the locations of Part 1 crime (violent and property) were mapped based on data obtained from the Baltimore City Police Department. Violent crimes (homicide, rape, aggravated assault, and robbery) were separated from property crimes (burglary, larceny, and auto theft) to ensure that similar types of Part 1 crimes were analyzed.
The analysis revealed 18 hotspots where at least 4 incidents of crime had occurred at the same property address or at an adjacent property (neighboring or directly across the street) for each year over the 12-year period. The overarching finding shows that hotspots in the neighborhood are "traveling" from the western side (Patterson Park Ave) to the eastern side (Kenwood & Streeper Streets).
Read the hotspot methodology documentation
Individual McElderry Park hotspot profiles (PDF):

BCJI Partners and Neighborhood Resources
Contact
Seema Iyer
Associate Director of The Jacob France Institute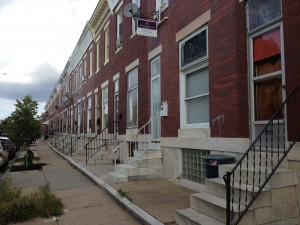 (410) 837-5797
[email protected]
Cheryl Knott
GIS Project Manager for The Baltimore Neighborhood Indicators Alliance
(410) 837-4377
[email protected]
Andrea Cantora
School of Criminal Justice, University of Baltimore
(410) 837-5352
[email protected]